Hoops and Hooves Basketball Tournament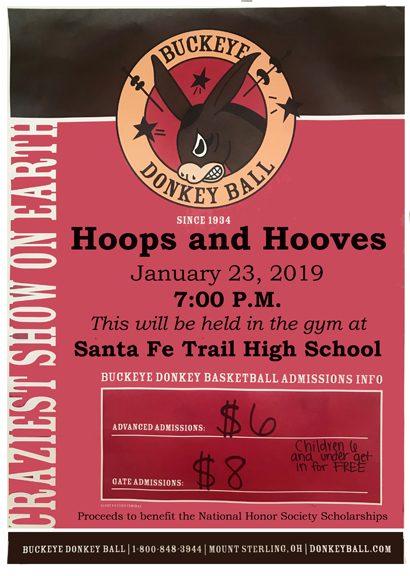 Got some loose change and wish to put it to good use?
What better use is there than to donate to a local scholarship fund while also getting a good chuckle picturing one of the individuals below kissing a donkey on January 23rd during the Hoops and Hooves Basketball Tournament at Santa Fe Trail High School?
The National Honor Society will be hosting the tournament, which begins at 7 pm, and will include the "Kiss the Donkey" results and long awaited SMOOCH by either, Kristy Hamit, Keith Johnson, Becky Coltrane, or David Fernkopf, all of whom are employed by USD434, CAC, HS, SAC, and OAC, respectively.
There will be 3 teams, two teams of staff from buildings in the district and one team of high school students.
We are all looking forward to seeing some crazy team themes, hearing some crazy team names, as the teams hoop it up on the hardwood Wednesday, January 23rd, at the high school.
Kids 6 and under get in free - you can purchase advanced tickets for $6 at any school building office now or pay $8 at the door.
Hope to see you there!