SFT Band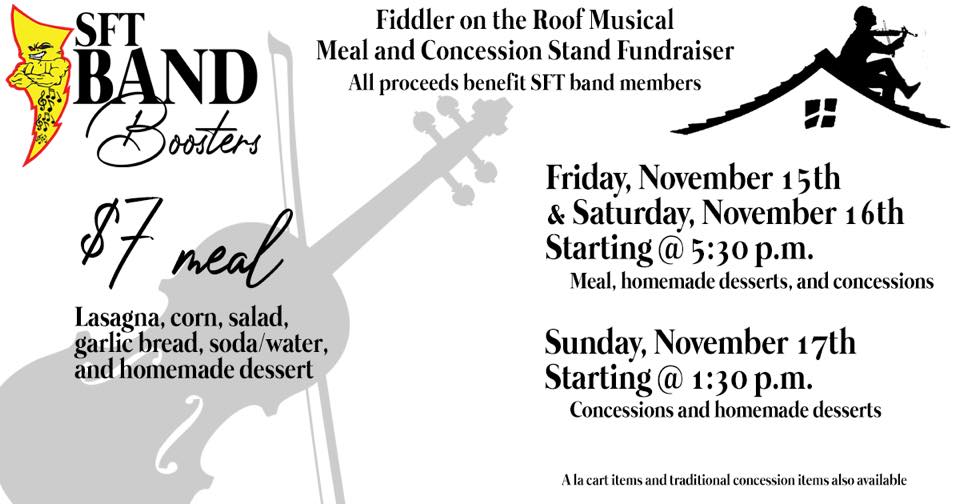 SFT Band 2019-2020 Parent Consent and Confirmation Letter (click to download complete form)
Dear Band Parents and Guardians,
Thank you for the time and support you have given the band! The SFT Band will be traveling to Orlando, Florida, on March 7, 2019. The total cost of the trip per student is approximately $1,000 . The payments for the trip are divided into 5 installments. The first installment of $100 was paid in July to secure the trip.
I have spoken with students about the trip. You are receiving this letter of agreement because your student indicated intent to go on the trip and also indicated understanding of financial requirements of the trip.
Because of strict contractual obligations with the Group Travel Planners, students must have specific amounts of money in their accounts (which is accounted for by the Band Boosters Treasurer) throughout the year. I understand that the cost is a significant amount of money; efforts are made to provide fundraisers throughout the Fall and Winter to help offset the cost of the trip. (See the 2019 SFT Marching Band Fundraising document for a detailed list.) Please know that any student who backs out of the trip forfeits any money in the student's individual account (including payments made or fundraising money earned) and consequently raises the total amount the rest of the other band members have to pay.
Parents/guardians must sign a release/agreement form for their student. By signing this agreement, you agree that you are granting your child permission to go on the trip and that you are financially obligated to make payments at the assigned times.
Please sign this form and have your child return it to me no later than September 20, 2019. Questions or concerns? Please do not hesitate to email me at lquilling@usd434.us.
Thank you!
Lance Quilling
Payment Schedule
July 15, 2019 $100 non-refundable deposit
October 1st, 2019 $275
November 18th, 2019 $275
January 15, 2020 $275
February 4th TBD (not to exceed 150 and based on student cancelations)
---
Alumni Band Music
Be sure to check out the SFT Band Booster Facebook page! https://fb.me/SFTBandBoosters
---