Message from BOE President Tanner Black
Parents, Patrons and Staff of Santa Fe Trail,
What a rough year this has been!! Our students and staff have stepped up in every situation they have been thrown this year and did it with dignity. You are all representing our district in a way that myself and many others board members are very proud of. Thank you all very much.
I have spent the past several weeks reflecting on the difficulties our district has faced this year. What I realize most, is that we can only be successful together. We must partner as unified stakeholders of this district. That will take the efforts of all board members, all students, all staff, and all community members. We must start with trust and rebuild what has been lost. I fully admit that we have lacked effective communication and transparency. I have decided to change that starting right now.
In early 2016, before I was even on the BOE, the district started discussing the changes that were taking place at the state level in regard to accreditation. A new cycle was about to begin, and schools were asked to build a plan to improve in the areas of Kindergarten Readiness, Post-Secondary Success, Social Emotional Learning, Student Individual Plans of Study, High School Graduation Rates, and Social-Emotional Learning and Supports. Along with a new accreditation cycle, the state also piloted a program to support schools in redesigning. Administration, lead-teachers, patrons of the communities, students, and board members all came together for a 2-day session to discuss, brainstorm, set goals, and plan for school improvement. From this teamwork, a 5-year strategic plan was developed to ensure we met the state goals and requirements to maintain our accreditation status as a school district. At this time Overbrook Attendance Center and Santa Fe Trail High School, with BOE approval, applied to become a redesign pilot school in the Gemini program. (Carbondale Attendance Center joined the Redesign initiative last year with the Apollo program, 2019). Linked below is a full listing of the Kansas schools that are also participating in the redesign program.
Kansas Can Redesign Principles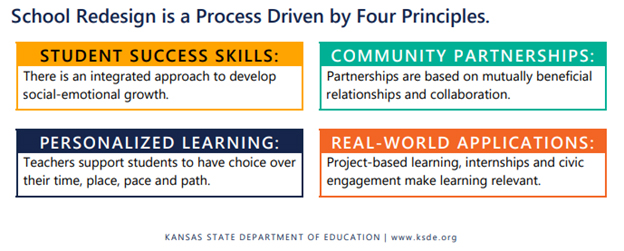 In 2016, with the adoption of acceptance from Santa Fe Trail Board of Education, they agreed to the strategic plan for school improvement based on the Redesign Principles. One of the most important principles of redesign is personalized learning. KSDE provides a Fact Sheet here to better understand personalized learning. Personalized Learning.
To summarize:
"Promote student ownership- Communities and employers need people who can self-regulate and are self-directed. Educators and families need to guide students to set goals and work to achieve them while also giving them choice, so they learn how to make their own decision. Student ownership promotes learning. Create lifelong learners- The world is ever-changing, and challenges will continue to present themselves. To thrive in adulthood, students cannot simply learn specific solutions but must learn how to learn. Student Engagement- By fostering authentic relationships, giving students voice and choice, and pulling from students interests and passions, the learning becomes more relevant, promotes career exploration, and increases student engagement. Students deserve equitable opportunities and support when learning. Students deserve to bring their whole selves to the learning experience. With Personalized learning, students get what they deserve, leading to success in school and beyond."
It was after this BOE adoption that research began with district leadership teams, building leadership teams, and teacher committees. Teachers and administrators alike, participated in this research. Out of this research a few strategies and programs have been implemented to support school improvement and redesign as of 2016: Leader in Me, Project-Based Learning, Blended Learning, Xello-IPS, OAC Families, Charger Days, Summit Learning, PK-12 Literacy alignment, Power Hour, Student Leadership Committees, Family Dinners, Bolt Buddies, Personalized Professional Learning, District Newsletters, Cross-Curricular Course Offerings, and much more. For more details on action steps the district has taken, please see the strategic plan. Strategic Plan Not all of these strategies are still in place, but they were all piloted to support the state board outcomes and redesign principles. As you know, Summit Learning was the most recent program implemented. The decision to move forward with this program 6-12th grade was not made lightly. It was in the plans for a pilot at the high school but was extended beyond that pilot to support the needs of a COVID-19 school year. There was never intention for it to have a negative effect on our students, staff, and community members. We have learned from this experience and have scaled this platform back to support our stakeholders. Please know that all of our work in the area of redesign has been to improve our schools and meet the needs of all students.
Our goal as a Board of Education has always been to promote students in a way that allows them to be successful well beyond their school years. Our mission and vision statement reflect just that:
"The mission of Santa Fe Trail USD 434 is to support individual student needs in preparation for successful life work, while our vision is that USD 434 is the school district of choice for those pursuing the highest quality in academic and extra-curricular experiences."
I, like others on the Board of Education, realize our decisions have an impact on the entire community and do not take that responsibility lightly. We believe Santa Fe Trail students are the very best in the state and we are proud of how they represent our district. It is our duty to ensure their success.
We are in this together. Please always feel free to reach out with questions, concerns, and comments so we can support you to the best of our abilities. Thank you for your time, support, and help in making our district one of the best.
Sincerely,
Tanner Black, President
Santa Fe Trail, USD 434 Board of Education