Welcome to the fastest weeks of our year! Lots to tell you!!
First, and still important, we are observing our COVID safety rules of masks and water bottles. Please, please continue to send your children to school with MASKS. We still don't use our water fountains, and we are not supplying bottled water. We give the students a cup, and that is really not the best for our classrooms :-) Bringing a water bottle is really important, especially since it is now warmer, the kids are outside playing, and they need to hydrate.
K-1 parents are receiving summer school invitations this week. In order to build our summer schedule, we are asking that these are returned ASAP, by Friday, April 16. We will follow with grades 2-3 as soon as all the benchmark testing is done.
Chromebooks...We know this has been a year of trial and error.
We do want the devices back at school, along with the charger and case. They will be sent home at the teacher's discretion, but we won't send any home after May 7.
Unfortunately, many still owe fees for damaged devices. We have done our best to understand all situations, but shattered screens and wet devices have become the most familiar accidents. These fees will remain on your child's account and follow him/her until they are paid.
Third graders will enter the world of Kansas State Assessments this year. No other grade is involved in state assessments. May 3 and 4 will be our testing days, one for ELA and one for math. It will help the kids tremendously if you can...
Make sure they have a good night's sleep both Sunday and Monday.
Make sure they eat breakfast at home or at school.
Surveys...We are hoping to gather some data about our school and programming in order to begin planning for next school year. Be watching for those in your email!
Upcoming Events - and we'll send more info for each!
| | | | |
| --- | --- | --- | --- |
| Saturday | 4/17 | 9:00-1:00 | Spring Clean Up at OAC |
| Thursday | 4/22 | | Preschool Classes to visit OAC |
| Thursday | 4/22 | 5:30-7:00 | Ready Set Read Family Night |
| Monday | 4/26 | | Late Start |
| Week of | 5/3 | | Teacher Appreciation Week |
| Friday | 5/7 | 9:00 | Kindergarten Round Up at OAC |
| Friday | 5/7 | | All library books and electronics are due back to school. |
| Friday | 5/14 | 1:00 | OAC Field Day |
Again, thanks to all our parents and families who are constantly seeing to the needs and wants of OAC: a fabulous Parent-Teacher Conference meal, donated masks, donations toward our 100 Days shirts, donations for our Penny War ice cream reward, donating clothing and shoes to our closet, and so many other kind gestures! We are lucky, and we know it!
read more
Do you receive text message alerts from the District? If you would like to, you must OPT IN.
Text Y or Yes to 67587 to subscribe.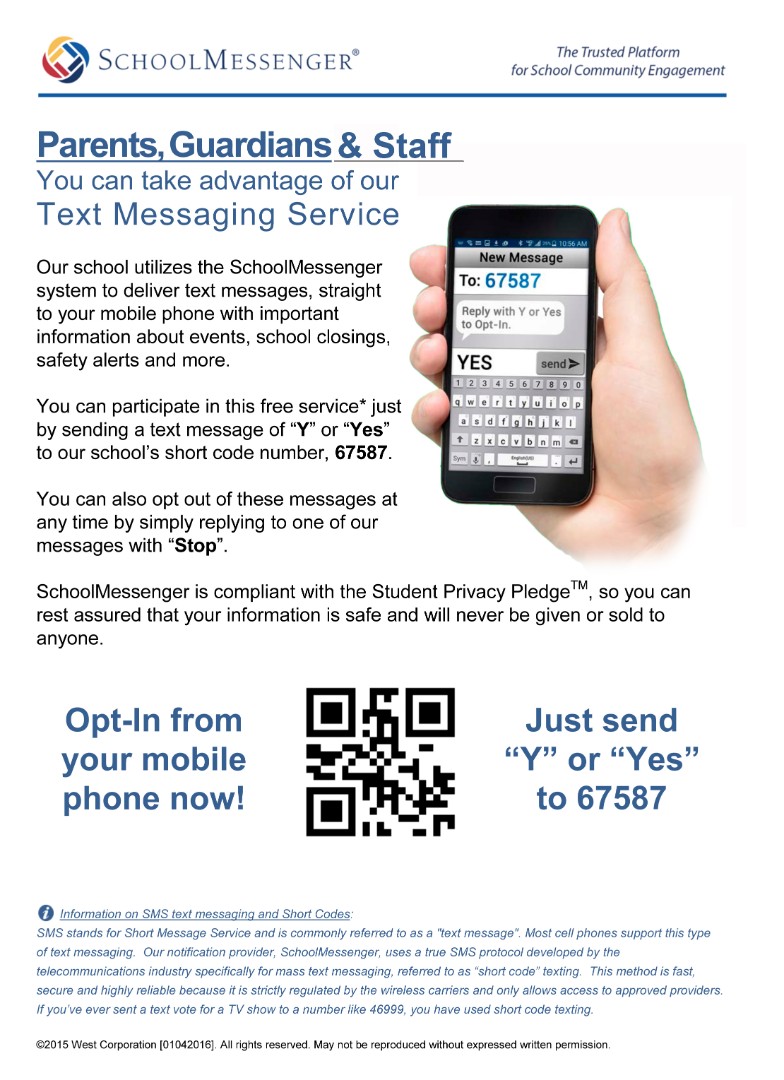 read more