Girls Golf
Congratulations to SFT Lady Golfers, Braegan Buessing & Bailey Anshutz for being selected for ALL STATE 3-2-1A 1st & 2nd Team Honors! Well deserved by these two.
I am very happy they were recognized for their work, grit, character, and an outstanding 2021 fall girls golf season performance.
October 18/19, 2021 - 2 time repeat Regional Champ & State Qualifier, Braegan Buessing, brings more pride to SFT!
State 3-2-1A Golf was held Monday & Tuesday in Hesston.
Braegan surpassed the qualifying cut-score on Monday to advance to compete in the finals on Tuesday. (cut was 107, Braegan's Monday total was 85. The competition began with 90 competitors!) Her two day 36 hole total was 166, earning 5th Place.
She worked hard and it was a joy to see her "Be Braegan" against other great players from across Kansas at the State level of competition.
Braegan ended the competition as the 3-2-1A STATE 5th Place Individual Medalist!!!
YEA, Braegan!
---
Monday - 10/11/21 - SFT was represented at Regional Golf yesterday by these ladies.
Kylee Burns, Marissa Losson, Bailey Anshutz, & Braegan Buessing.
(other team members for 2021 were Carley Cox & Sky Smith)
If you see these ladies, they always enjoy your words for support.
They've had a good season and represented Trail with class.
Yesterday's Regional results: Braegan WON the Tournament. (She also was the Regional Tournament Champion last year!!!)
Braegan will advance to The 3-2-1 A Girls State as an Individual.
State is in Hesston this year on Monday & Tuesday of next week (Oct 18 & 19)
Monday - 9/27/21 - SFT had two ladies medal as Individuals at the Jeff West Invitational held on Village Greens Golf Course.
Braegan Buessing 2nd Place
Wednesday - 9/22/21 - SFT competed in the Topeka High Tournament held at North Topeka Great Life on 9/22. Another successful outing for TRAIL!
Team members, Sky Smith, Carley Cox, Marissa Losson, Bailey Anshutz & Braegan Buessing; took First Place as Team!
Individual Medalist for SFT:
9th place Marissa Losson 48
4th place Bailey Anshutz 41
1st Place Medalist: Bragean Buessing 37
---
Thursday, 9/16/21 - Braegan & Bailey represented Trail at the Osage City Girls Golf Tournament on 9/16.
Braegan Buessing was the tournament Champion! shooting 2 over (38)
Bailey Anshutz was the 3rd Place Individual Medalist! shooting 46
---
Results from Tuesday (9/14/21) at the SFT Invitational Golf Tournament held at Lamont Hills
Individual Medalist were:
4th Place Bailey Anshutz
7th Place Kylee Burns
SFT tied for 3rd as a team. Team Medals went to Ottawa based on the 5th player score.
SFT had 4 players compete:
Bailey Anshutz
Kylee Burns
Carley Cox
Marissa Losson
---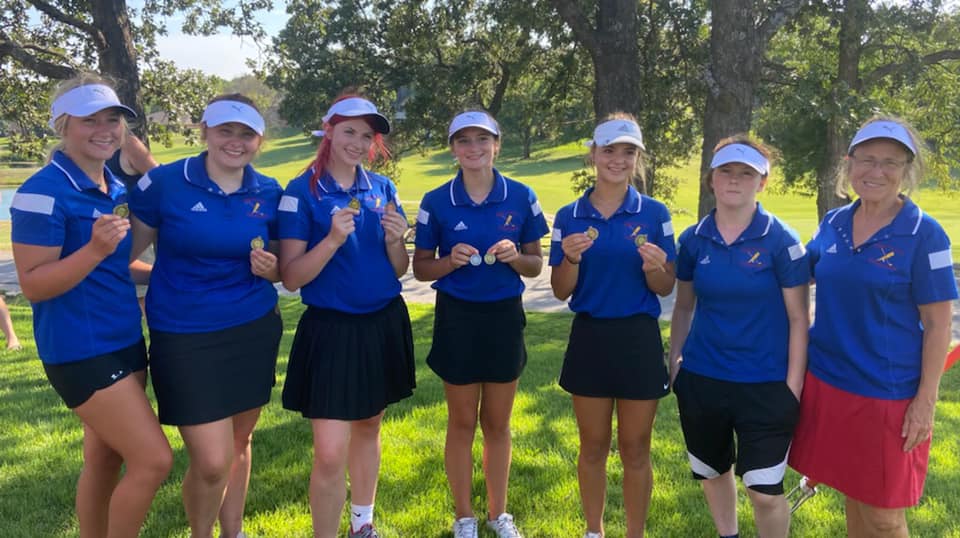 Girls Golf kicks off the 2021 Fall Competition for SFT as CHAMPIONS!
Season opener for Santa Fe Trail High School Girls Golf:
SFT competed in the Jeff West Invitational on 8/25 at Lake Perry Great Life CC
SFT took 1st Place as Team
Braegan Buessing was the (repeat 2020) Individual Medalist carding 37
Bailey Anshutz was 2nd Place Individual carding 47
Kylee Burns was 15th Individual
other team members competing:
These Ladies did a great job representing Trail. I am very proud of their attitudes & grit.
Next up: Monday 8/30 at Ottawa Invitational
Mary Burgett 800-836-9525 mburgett@usd434.us