Building Principal at Santa Fe Trail Junior High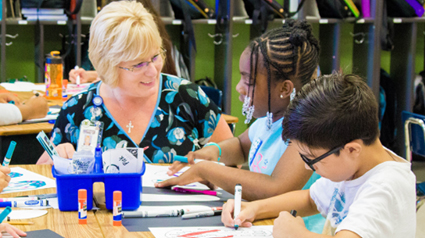 Attention Charger Community:
At the USD 434 Board of Education meeting on Wednesday, June 9, 2021 Jodi Testa was announced as the new Building Principal for Santa Fe Trail Junior High. We are excited to start this new administrative partnership and forge ahead for SFT students. Testa says, "Families can expect for their children to get a solid social-emotional and academic education at Carbondale." Below is an introduction from Jodi. She will be in the building starting July 1 if you would like to come by and introduce yourself!
--------------------
There is a quote that I keep near and dear to my heart: "Education breeds confidence. Confidence breeds hope. Hope breeds peace." It is a quote that is brought to life with my past, present, and future students.
Prior to accepting this position, I served 7 years as a building principal at Geary County Schools. I also held an assistant principal position for two years. Before administration, I spent 16 years as a classroom teacher in Geary County Schools at both the elementary and middle school.
As a mother of two educators and a grandmother of five school-age children, I understand the collaborative efforts needed to make school a great place for children. In the coming weeks before school starts we will team with district and building-level staff members to put together an educational plan that fits the needs of all learners. Parents and staff can rest assure that the needs of our students will be placed at the center of decision making of our educational team. "I look forward to meeting everyone in August, if not sooner. We have very important work to do for our Chargers! Won't you join our efforts?" --Jodie Testa