KAY
Here is a little more about KAY & our State Area 1 Conference we hosted on Nov 2. : )
Your support of their projects and for you allowing them to give time to Club projects is priceless to me as their sponsor in their many & constant service projects. THANK YOU!
KAY clubs' purpose is to give our youth (6-12 grade) a place to belong, build character, gain leadership, and provide service at school, community, nation & world level needs. KAY is for Everyone.
Unlike other groups sponsored by KSHSAA, KAY is a non-competitive area against other schools. 1A-6A schools have KAY, all having the same KAY recognized opportunities for service and leadership participation. Each club sets their own goal which we do to work for that level of KSHSAA recognition awards. Awards aside, SFT KAY is an Outstanding Club, recognized & used as examples throughout all of Kansas in State KAY Conferences. (We do have a history of the highest recognition level achieved consistently since Overbrook Rural HS began Kays & Kayettes in 1964, to SFT HS KAY beginning in 1969. It isn't easy either.
)
BTW;
SFT made the News! The GOOD NEWS!
Here is the link to that segment. https://www.wibw.com/video/2021/11/02/santa-fe-trail-hs-hosts-region-kay-clubs-conference/
CONGRATULATIONS to Caroline!
Each KAY Area elects a student President for their Area. Caroline Chiddix has set this goal since we formed KAY in our SFT Junior High her 8th grade year. Caroline WAS elected the Area 1 KAY President for 2021-2022! Congrats to our Caroline. Ella Huizenga gave a nice nomination speech & Caroline led the day with her awesome shine!
All our KAY kiddos who attended did outstanding behaviors and were energetic hosts & helpers to the 200+ visitors!
The group of students who have helped ahead, during, and clean up for this State Area 1 Conference were Amazing!
Thank you for supporting our kiddos (& adults) in what we do for our school at large!
Go Trail!
mary
Contact: KAY Sponsor Mary Burgett mburgett@usd434.us
Farzana Baloch farzanabaloch@usd434.us Nicole Vandevord nicolevandevord@usd434.us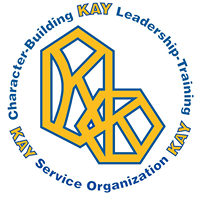 Sponsor : Mary Burgett mburgett@usd434.us