SFTHS Green Team

It's time to recycle your old electronics! On Saturday, April 10th the Santa Fe Trail Green Team is hosting the Annual E-waste Drive from 10am to 2pm. This event will occur at Santa Fe Trail High School located at 15701 South California. We will be accepting electronic devices, such as: phones, TVs, monitors, PCs, toasters, microwaves, etc. We will even take your washing machine! Everything is free to recycle except, there is a $35 cost to recycle TVs and a $25 cost to recycle monitor screens. The first 30 TVs/ monitors will be paid for by Green Team!
For more information or questions you can contact Kali Hinman at: khinman@usd434.us
---
Auburn Pharmacy Bottle Caps:
If you have been hanging on to your Auburn Pharmacy medicine bottle caps during COVID, the pharmacy is now accepting them again and the SFT Green Team is hoping to submit a Caps to Cash order by the end of July. The Auburn Pharmacy is so generous in their donation to the Green Team for each bottle cap we submit which has allowed us to do many things within the high school and community. We are grateful for their commitment to the community.
The SFT Green Team is thankful for the partnership with the Auburn Pharmacy and their continued donations which enable us to help make our schools a little "greener". In addition we would like to thank all of the community members who return their medicine bottle caps to the school recycling program. Through the Caps-To-Cash program, Auburn Pharmacy graciously donates money for each bottle cap returned, and this money enables the Green Team to have financial resources to promote recycling at the Trail.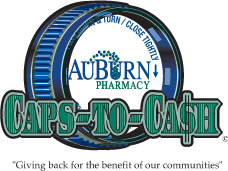 The Green Team is a group of environmentally conscious students and staff who meet after school to work on projects that conserve resources and/or energy on our school campus. In addition the Green Team helps create awareness about changes people can make here and at home to do the same. This group has been instrumental in helping raise money in order to purchase a water bottle filling station in order to reduce the use of water bottles in the building. They have assisted with building wide recycling efforts and established a yearly e-waste drive for the community to responsibly recycle their unwanted electronics. This is a welcoming and energetic group that is open to all students at SFT.