Newsletter from the Superintendents 11/18/2022
Dear Parents, Patrons and Staff;
A big Thank You to everyone who attended the Town Hall Meeting in Carbondale this past Wednesday evening. We truly appreciate the opportunity to have face to face conversation with parents and community members on a variety of topics regarding the school district. The USD 434 Board of Education and administration is dedicated to improving communications and building partnerships with all of our stakeholders and communities. Our students deserve the best education possible to prepare them for success. By working cooperatively together we can inspire and empower every charger every day! It truly does take the entire village to raise a child to their full potential.
There will be no school next Wednesday, Thursday and Friday due to the Thanksgiving Holiday. We hope everyone has the opportunity to relax and enjoy the time with family and friends.
With the coming of winter also comes that four letter word "Snow". The first snow fall of the year, which obviously happened earlier this week, also brings up the question of how and when we make the decision to cancel school. The decision to call a "Snow Day" is always based on the safety of our students and staff. We watch the weather reports, look at snow depth predictions, talk with the national weather service, and talk with area school representatives and with our own district transportation department. If we do not believe it is safe to operate our busses, we will cancel school. We will inform the public of the decision to cancel school as early as possible. If the temperature is below freezing and snow is falling in the evening and is predicted to continue through the night and into the next day we will make the decision and inform the public the night before. When temperatures are above freezing and/or snow is predicted to begin late at night or early in the morning, we will wait to make the decision at 5:00 AM after our transportation department has checked road conditions. We know most parent work outside the home and we want to keep schools open if possible, but safety or our students and staff will always be the number one consideration.
Shout Outs and Congratulations
It is National Education Week!! To celebrate our amazing staff here in USD 434 we had the amazing privilege of walking the halls of each building and in each classroom to thank and celebrate all employees who make our schools amazing. A sincere thank-you to every bus driver, cafeteria worker, custodian, office manager, nurse, administrator, and teacher who work so hard each and every day for our students. Their tireless effort and diligence in making our schools the best shines through brightly and it was a wonderful experience to see their hard work in action! The smiles on their students' faces, and the genuine celebration by all was heartwarming and genuine. THANK YOU!!
~Carrie Mugridge and Faith Flory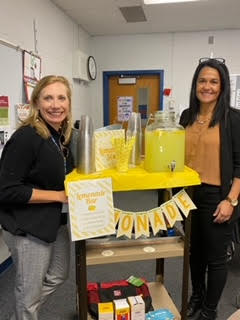 Thank you to our amazing kitchen staff and all our extra helpers for a successful Thanksgiving meal for 2nd and 3rd grade students and their families.
What another wonderful Rock Your School day event! This event could not happen without our donors, high school volunteers, parent helpers and staff members! Thank you for making it the best day ever for our students.
I appreciate the parents who were able to attend OAC Site Council. We look forward to continuing to grow this group of stakeholders.
Thank you, Candlewood for the donation of turkeys and our families for providing non-perishable items for our Thanksgiving basket. We were able to provide six full meals for local families!
~Lorle Bolt
I just wanted to give a quick shout out to Mrs. Rice and Mr. Quilling. The 5th grade band concert was well put together. They've taught these kiddos so much in so little time. You can tell they love what they do. They are wonderful!
~Tricia Waters
A giant shoutout to Julie Smith for taking our SFTHS FBLA students to their conference in Colorado. Students had a wonderful time and she did a fabulous job of keeping the parents updated.
~Lorle Bolt
Shout out to Heather Garrison and Carbondale Public Library for hosting the first Town Hall meeting. We appreciate the beautiful facility to meet with community members. It was a great event.
Shout out to Taleisha Traphagan for catering our events whenever needed. We have built a great partnership with her. She makes the best cookies!!!!
~Faith Flory
A special thank you to Greg and Doug for keeping things tidy, comfortable and always assisting us with district projects when necessary.
~Technology Department
Congratulations to the cast and crew on the Musical "Mamma Mia!" Three outstanding performances. Great job to all that were involved.
Thank you to Mrs. Arlene Mayes and the SFT Student Council members for hosting the Pioneer League Student Council event at SFTHS Wednesday.
Best of luck to the Dance and Cheer teams at STATE on Friday and Saturday.
A huge shout out to Mrs. Maggie Mead. Her work with our students is making a difference.
~Patrick Graham and Regan Erickson
We would like to give a big shout out to Kim Dayhoff. She moved classrooms this year and has established an incredible tech lab for our students.
Rob Colvin, Tiffany Burget, Christian Gulker, and Preston Fordham have collaborated to establish common writing expectations and goals for their seventh-grade students.
The staff and students at SFTJH/CAC organized and delivered a beautiful celebration of US Veterans last Friday. Students displayed incredible artwork, performed beautiful songs, and shared poetry, all in honor of current and past US military members.
Shout out to Lance Quilling and Tiffany Burget for all of the work that they have done to plan our Thanksgiving lunch. This will be a great experience for our students, staff, community members, and all of those that are involved.
~Austin and Jodi
Quote for the Week
"The great enemy of the truth is very often not the lie – deliberate, contrived and dishonest; but the myth – persistent, persuasive and unrealistic."
– John F. Kennedy
Have a Great week and an Amazing Thanksgiving Holiday!!
Faith Flory, Deputy Superintendent
Jim Lentz, Superintendent