SFTHS Newsletter

SANTA FE TRAIL HIGH SCHOOL
NEWSLETTER
May 2023
GRADUATION
The Class of 2023 will walk at graduation on Saturday, May 13th at 10:00 am.
LAST DAY OF SCHOOL
The last day of school for high school students will be Wednesday, May 17th.
SUMMER SCHOOL
Summer school for the high school begins on Monday, May 22nd at 8:00 am.
NATIONAL HONOR SOCIETY UPDATE
The Charger Chapter of the National Honor Society inducted three new members, Tyler Bolt, Abby Clark, and Lexsey Heberling, at their ceremony on Wednesday, April 26. New officers for the 2023-2024 school year were also installed: Trenton Sleichter as President, Hailee Crosland as Vice-President, Kaelee Washington as Secretary, Chayse Jeanneret as Treasurer, and Whitney Herren as Historian. NHS will also honor their seniors, Cody Black, Max Black, Caroline Chiddix, Ella Huizenga, Alyssia Llamas, and Aulysha Lester at the Celebration of Success and present them with their honor cords.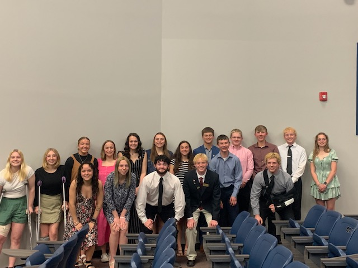 TRIP TO OKLAHOMA CITY
SFT's 1980's and 90's class study the events taking place during those decades. One of the most significant events of the 1990s happened on April 19th, 1995 with the bombing of the Murrah Federal Building in Oklahoma City. Students learned of the leadup to the events of the bombing as well as the many Kansas connections to OKC bombers Tim McVeigh and Terry Nichols. Students were able to tour the memorial archives, grounds, and museum and see some of the evidence collected by agents that would lead investigators to the bombers.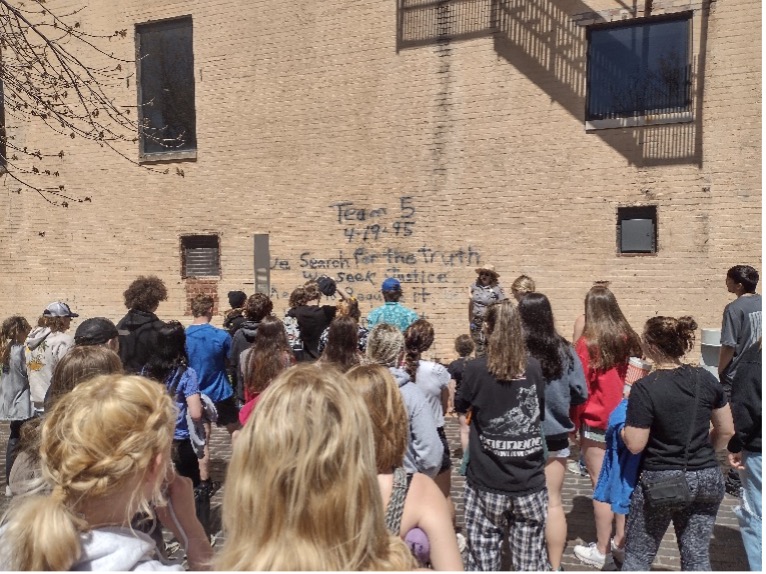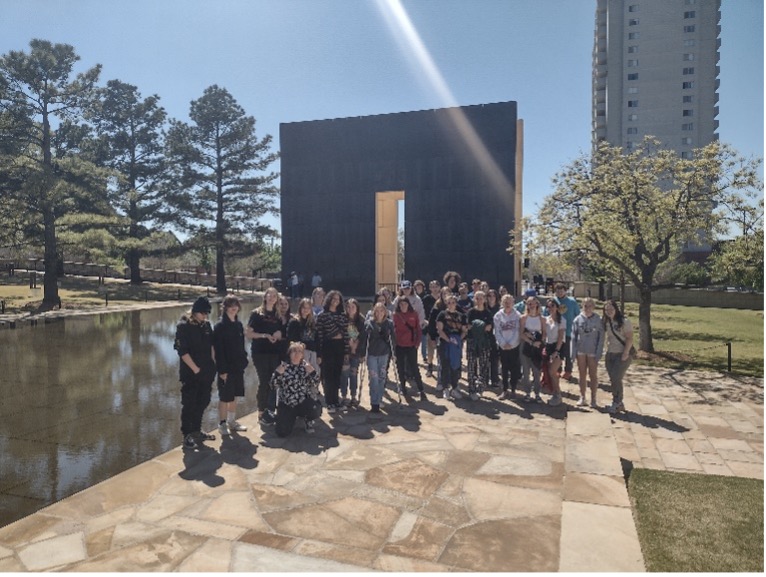 SPRING POPS CONCERT
Come check out the Final Choir Concert of the year! SFTHS Choirs will be performing their Spring Pops Concert on Wednesday May 10th at 7:00 PM in the SFTHS Auditorium. Featuring popular favorites from artists like Billie Eilish and Taylor Swift, songs from Disney movies like Moana and The Greatest Showman, classics by the Beatles and Toto, and hits from classic and contemporary Broadway musicals. You don't want to miss this amazing performance!
FROM THE ART DEPARTMENT
What a GREAT TIME we had at Pioneer Art League Competition! The theme this year was ROCK-N-ROLL @ Wellsville. SFTHS placed 2nd in 3D on-site and 3rd in 2D on-site. CONGRATULATION to the Art League Team: Loren Lieghty, Abby Dinger, Trinity Barr, Halia Garman, Landrie Rolla, Lexis Jones, and Eva Branstetter! I couldn't be prouder of their creativity, sportsmanship, and sheer determination. Here are the results:
Lexis Jones placed 2nd in 3D mixed media.

Joseph Ramirez placed 2nd in Printmaking.

Trinity Barr placed 3rd in Painting.
As another school year comes to an end. I would like to give a shout-out to my seniors. It has been an incredible 4 years with all of you and I am excited to see what adventures you take on next.
HUGE THANK YOU! to all of the support staff who help the art department during the year. I could not have done it without you!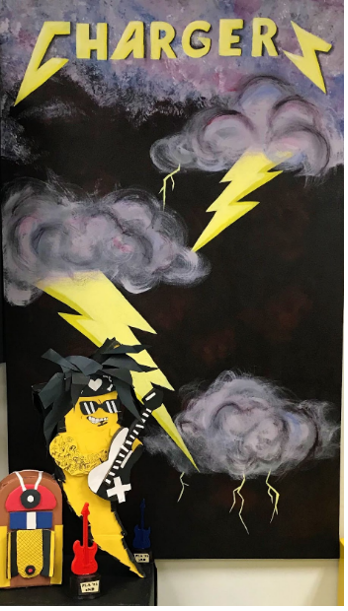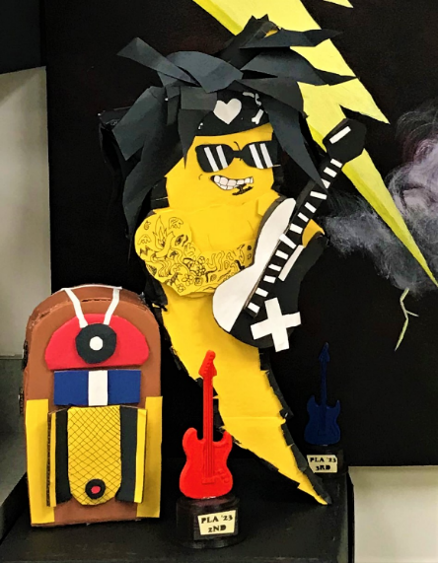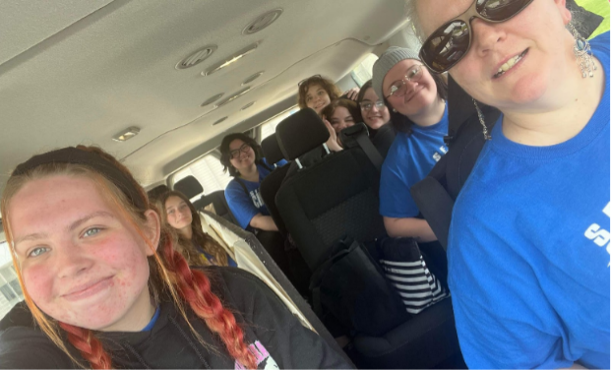 Please check out our Senior ONLINE Show Cases and class displays https://www.facebook.com/434-SFTHS-Art-107070800993078
SPANISH
During the month of April, students in Spanish classes and students not in Spanish classes alike had a chance to experience diversity, education and challenge at SFT. On April 12th, the 7th International Night was held at the high school library. There were over 20 different international dishes presented, lots of parents and students, and the special presence of two foreign exchange students: Karla Meitzler and Elisa Raymond.
They talked about their experience at a United States high school compared with their experiences in their native countries. And finally, the art department had a glow in the dark art show in the library for the first time ever. It was such a fun night!
Looking forward to next year!
In addition, on April 26th the ACC Elementary I Spanish class traveled to the University of Kansas to visit the Spanish Department. They were given a tour, information about the program, and they even attended a class taught by one of the instructors at the Spanish Department. It was entirely in Spanish, inspiring and empowering our students in their educational journey. We had a great, great time. What a great opportunity for our students!!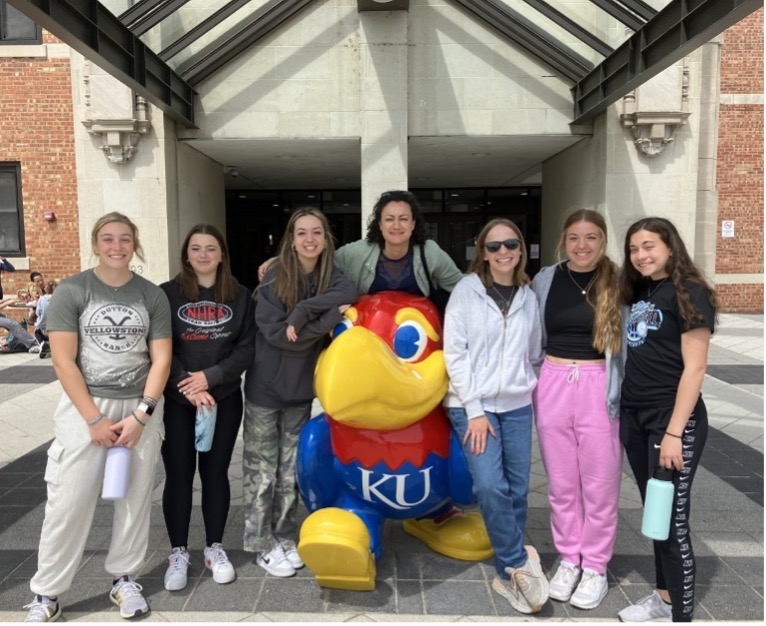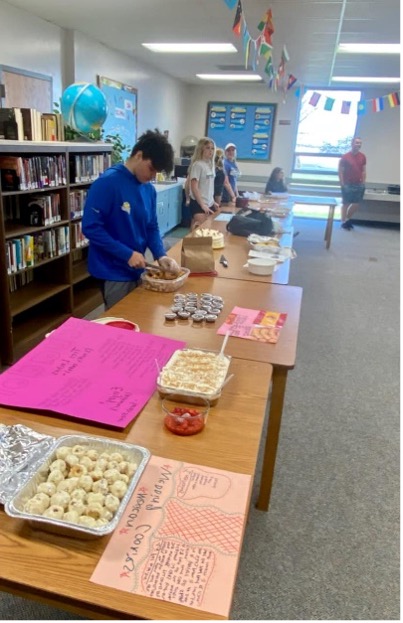 Athletics and Activities at Santa Fe Trail High School
Forensics
Congratulations to our state qualifiers for forensics. Oscar Costlow and Sam Shepard will travel to Wichita to represent SFT in the state event on May 6th. Good luck to Mr. Terry and his team.
Baseball
The varsity team has an overall record of 14-2 this season. The first game of Regionals will be on Monday, May 15th. The location will depend on the seeding of the 8-team regional. West Franklin will host the semifinal and final game on Wednesday, May 17. The winner of the West Franklin Regional will advance to 3A State, which will be held in Manhattan, on May 25 and 26.
Softball
The varsity softball team has an overall record of 13-3 so far this year. Regionals are hosted by Prairie View this year. The Buffaloes will host both days of the tournament, on May 15 and 16. State will be in Manhattan at the Twin Oaks Complex, on May 25-26.
Boys Golf
SFT has again been very competitive in Golf. The team has placed high in most all tournaments, as well as had individuals win or place consistently. The Chargers will compete at the Regional hosted by Osage City Country Club Golf Course on Monday, May 15th. The 4A State Tournament will be held at Dodge City – Mariah Hills Golf Course on May 22nd and 23rd.
Track
SFT continues to improve at each meet, as the athletes continue to set personal bests in times and distance. The Pioneer League Track Meet will be at Anderson County on May 11th. The Track and Field Regional will be held at West Franklin High School on Friday, May 19th beginning at 3:30 pm. Look for many of our athletes to be competing at the state track meet, which will be held at Cessna Stadium in Wichita on May 26th and 27th.
Summer Weights and Conditioning
Start day: Tuesday, May 30th
Days of the week: Monday, Tuesday, Wednesday, and Thursday mornings
Sessions per week: 6 different sessions for kids to attend 3-4 days a week.
Time: 6:45-8:00am, 9:00am to 10:45am
| | | |
| --- | --- | --- |
| Day | First Session | Second Session |
| Monday | 6:45am-8:00am | 9:00-10:30am |
| Tuesday | | 9:00-10:30am |
| Wednesday | 6:45-8:00am | |
| Thursday | 6:45-8:00am | 9:00-10:30am |
Monday offers workout #1. Tuesday offers workout #2. Wednesday offers workout #2 OR workout #3 for students who attended Tuesday's session. Thursday offers workout #4.
July 3rd – July 7th there will be NO weights/conditioning.
Weights will run May 30th until July 27th.