SFTHS March Newsletter

SANTA FE TRAIL HIGH SCHOOL
NEWSLETTER
March 2023
ALGEBRA AT THE HS
Students in algebra are taking a break from the numbers to work on problem solving. Working in teams, students used trial and error to find the 11 different ways
a cube can be laid out into a net.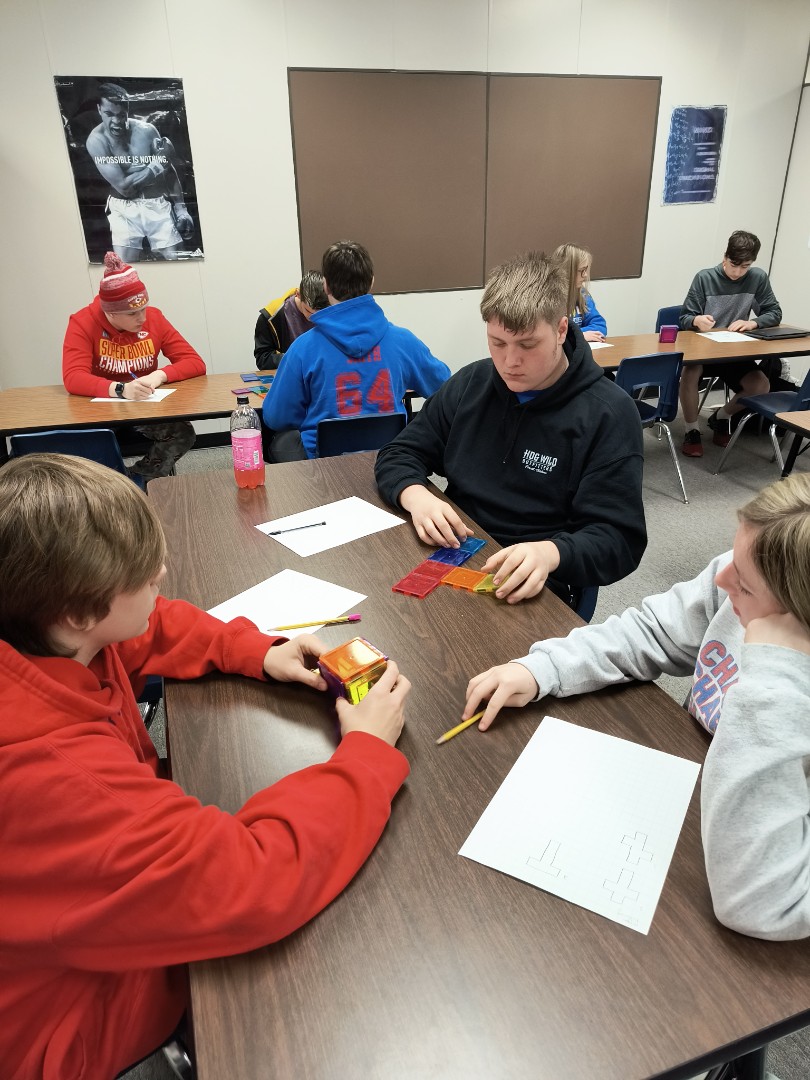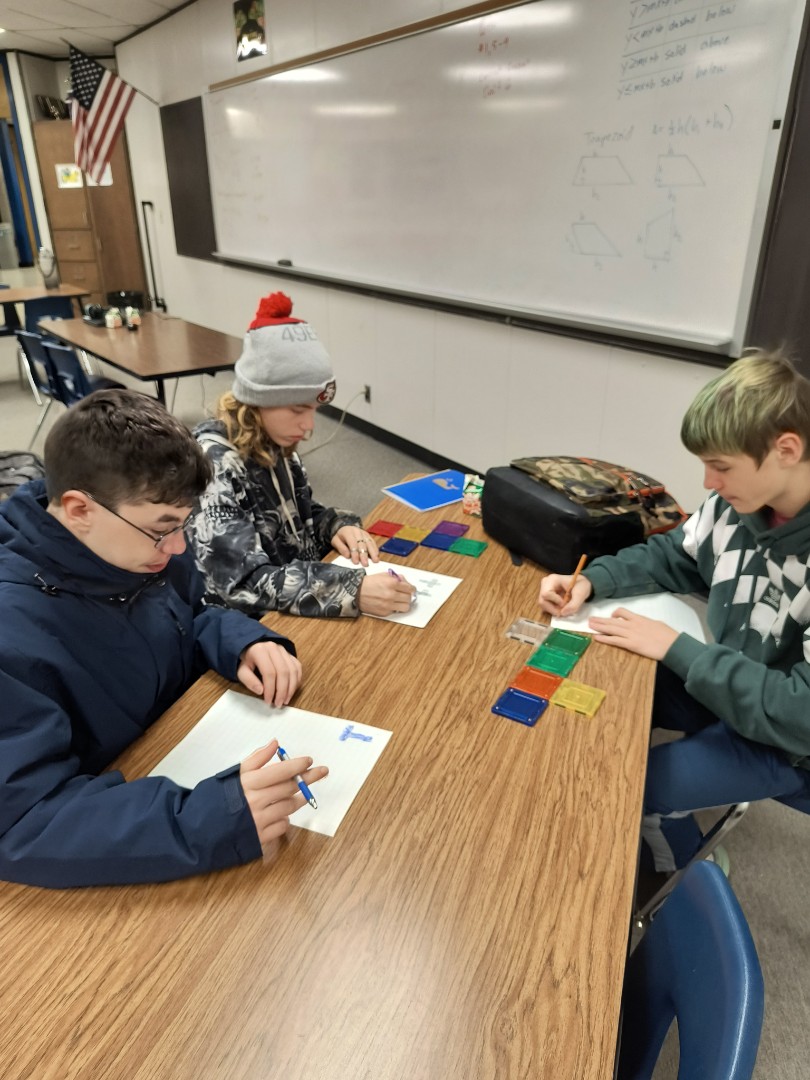 FROM THE ART DEPARTMENT
"Eyes of Wonder" by Abby Dinger
ALRIGHT CHARGERS! One of our students has made it into the YAM competition!!!
So excited for Ms. Abby Dinger. You can help Abby out by going to Kansas Youth Art Month Exhibit at Topeka Shawnee County Public Library and VOTE! The Youth Art Month exhibit will be on display from February 28th through March 25th. The Library is located at 1515 SW 10th Ave, Topeka, KS and the hours are as follows: Monday-Friday 9 am to 9 pm; Saturday 9 am to 6 pm; and Sunday 12 pm to 9 pm. https://tscpl.org/about/map
March 25, Celebration/Reception & Awards 1-2:30. Come help us celebrate young artists!
ART CALENDAR OF EVENTS FOR 22-23
Please check out our Senior ONLINE Show Cases and class displays https://www.facebook.com/434-SFTHS-Art-107070800993078
Kansas Youth Art Month Exhibit: Abby Dinger will be representing SFTHS this year. The Youth Art Month exhibit will be on display from February 28th through March 25th. The Library is located at 1515 SW 10th Ave, Topeka, KS and the hours are as follows: Monday-Friday 9 am to 9 pm; Saturday 9 am to 6 pm; and Sunday 12 pm to 9 pm. https://tscpl.org/about/map
Spirit Week 2023 Gilbert Baker Art Contest Theme submission deadline March 19th. The judging & voting period will take place from March 21st through the 28th. A hybrid reception will be held on the evening of March 31st.
March 31, 2023, Washburn High School Art day. (Advanced Art Students and SFTHS League Team will be attending)
ART League competition on April 27th in Wellsville, KS. GO CHARGERS!
May 10th, 2023 End of semester Fine Arts and Practical Arts Show 6:00 pm - 7:00 pm at the SFTHS in the Art studio 120.

Please feel free to contact me via email with any questions.
Thanks for your support.
Have a great rest of your day.
Mrs. Kitten
ELA
The sophomores are in the middle of Novel Study Literature Groups right now. Each group chose a book and has been reading and working together to analyze characters, vocabulary, point-of-view, and text structure each day as they complete their reading. In these groups they also practice having formal, productive discussions with their peers.
The juniors and seniors in Modern Literature just wrapped up reading In Cold Blood by Truman Capote (about the murders in Holcomb, KS in 1959) and are writing a research paper on whether they believe that nature or nurture determine who a person becomes and what their personal values are as an adult. Students will use both the scientific evidence that they find as they conduct research as well as evidence from the book to prove their stance on this issue.
THE REAL ACT at SFT
SFTHS hosted the real ACT test on Tuesday, February 28th for SFT juniors. This is the free statewide ACT testing date.
INDIVIDUAL PLAN OF STUDY MEETINGS FOR 2023-2024
They are full stem ahead right now. High school staff are meeting with parents and students to plan out their class schedule for the 2023-2024 school year. The goal is to have them completed by Thursday, March 30, 2023.
CHOIR CONCERT
Our Combined Junior High/High School choir concert is on Tuesday, March 8th at 7:00 pm in the Auditorium!
THE PLAY
This year the SFTHS Drama Department will be performing "Noises Off" by Michael Frayn. Dates of this year's live performance will be Friday, March 24, Saturday, March 25, and Sunday, March 26.
KAY has busy spring:
On January 10th, KAY delegates headed to St James Academy for their Area Unit Conference. Members had opportunities during this conference to meet with other service-interested peers, listen to speakers regarding leadership & service, and take part in a service project as a large group. The day is a great opportunity for our students to ignite their drive to develop as leaders and bring service experiences for all SFT students. Delegates also learned the theme of the 2023 KAY Leadership Camp which will be July 24-28 at Rock Springs Ranch. Students are encouraged to attend KLC and learn about ways to enhance their personal and leadership lives. Parents & students may contact KAY Sponsor, Mary Burgett, for KAY camp information.
BLOOD Drive: March from 8 – noon, KAY is hosting a blood drive in the SFT HS gym. Appointments can be made at savealifenow.org/group Code: TPKV Walk-ins are welcome, but appointments are given priority.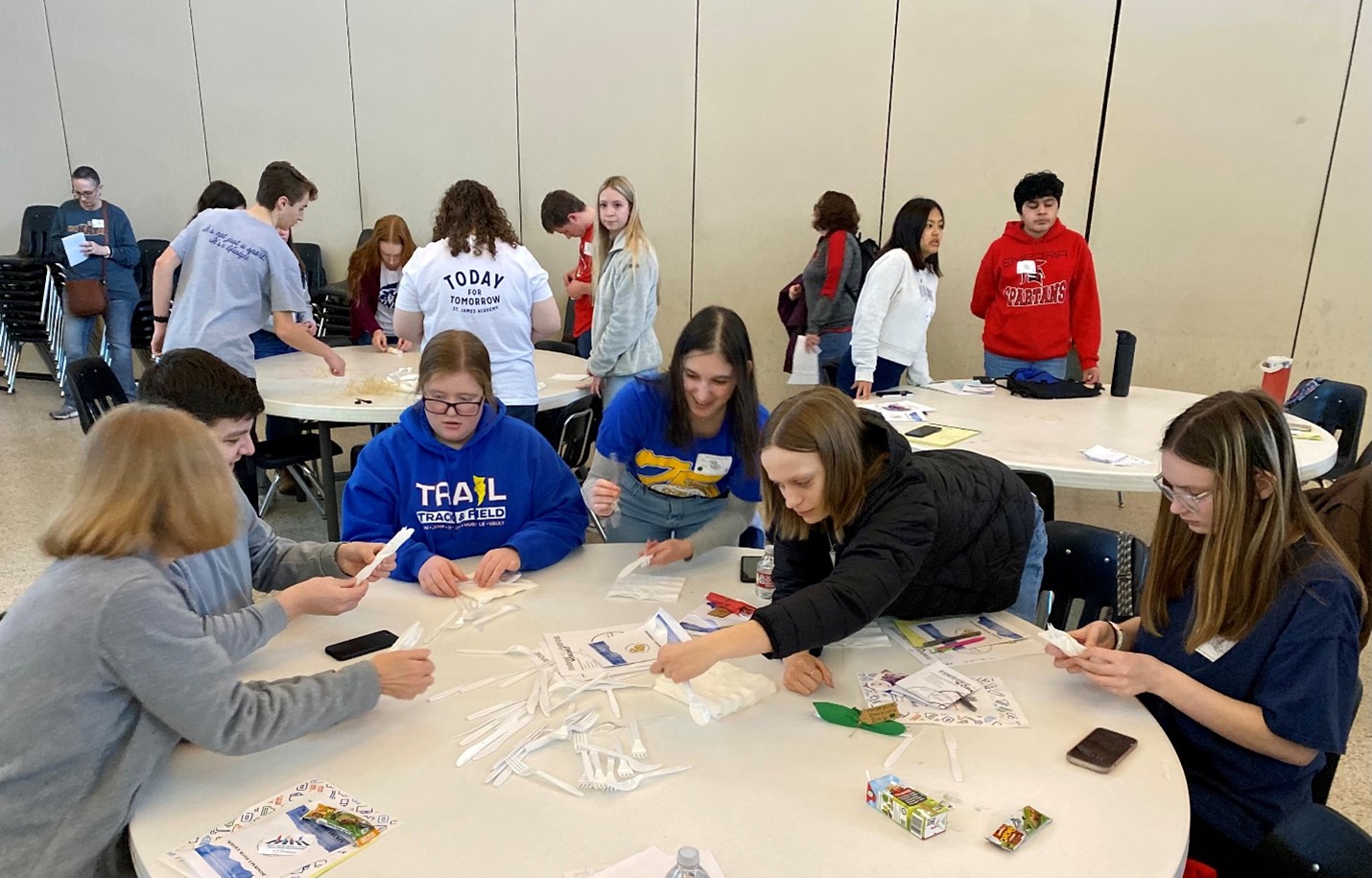 Service Project for food banks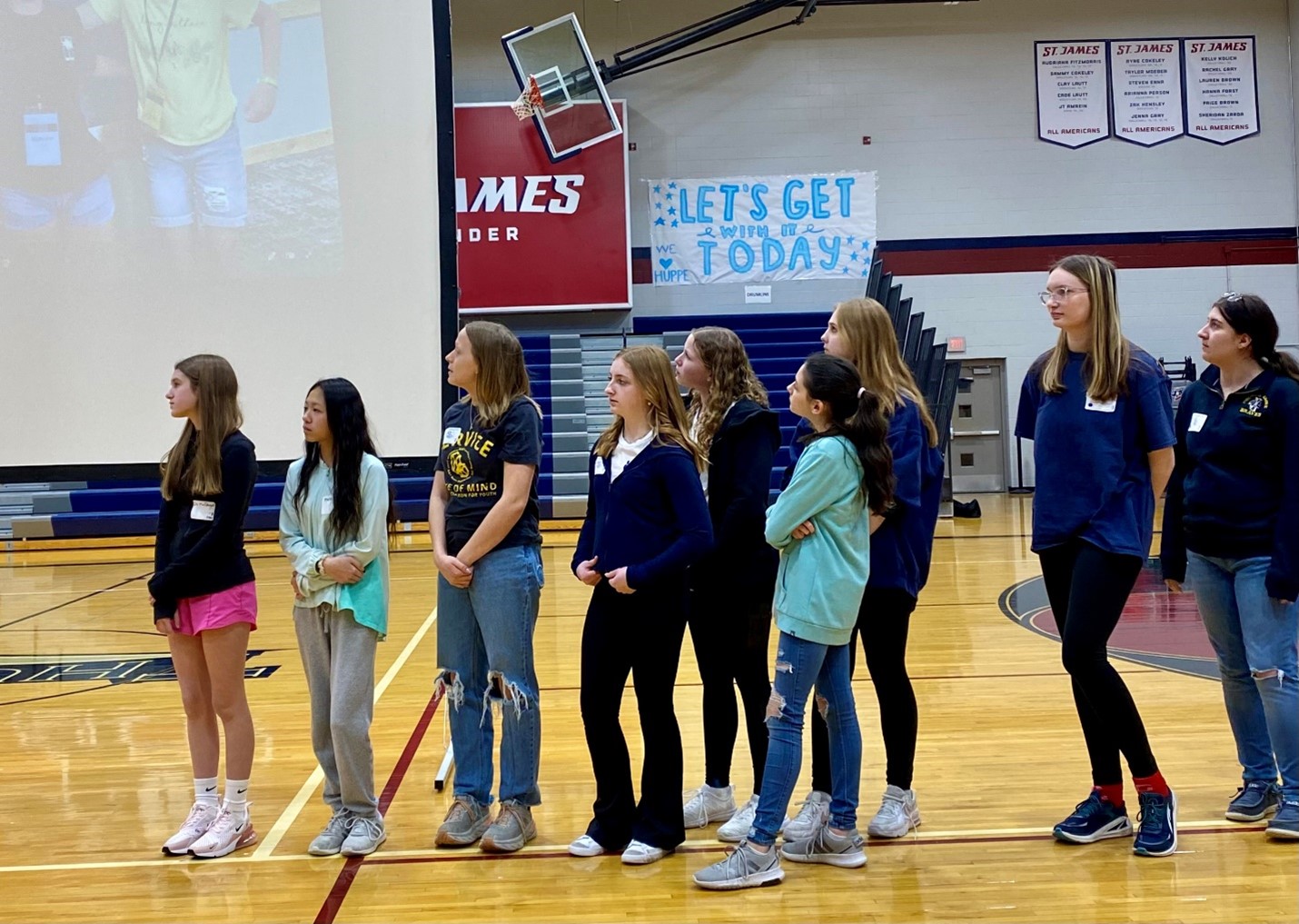 Caroline & Olivia speak at the conference about the benefits of KLC
Wrestling
The Santa Fe Trail Wrestling teams finished the year strong. The girls team finished 2nd at Regionals, and had a record 8 state qualifiers. More records were set, as the Trail girls had 3 state medalists, and finished 4th in 4A-1A State. Sierra Dempsey 2nd, Hailee Crosland 3rd, and Audry Johnson 4th. The girls return 6 of the state qualifiers.
The boys team finished 4th at Regionals, and also qualifying 8 for the state tournament. The team finished 22nd, with one state medalist, Cody Black who took 4th. The boys also return 6 of the state qualifiers.
Basketball
The boy's basketball team finished the season 8-13. The boys lost a thrilling overtime game with Burlington in Sub State competition to end their season. The girls are currently 19-2. They will need two more wins in Sub State competition to advance to the 3A State tournament in Hutchinson, beginning March 8th.
Forensics
SFT Forensics is gearing up for League competition, March 4th. Students competed at the Lyndon Invitational February 18th. Oscar Costlow and Sam Shepard made it into finals in speaking events, qualifying for State Festival.
Spring Sports
Spring sports started on February 27th. Several students will be participating, beginning numbers are: boys and girls track-54, baseball-26, softball-20, and boys golf-17. Softball, baseball, and golf all kick off the week of 3/20. Track competition will start at the Silver Lake Inv. on 3/30.